About JA Devlin Engineering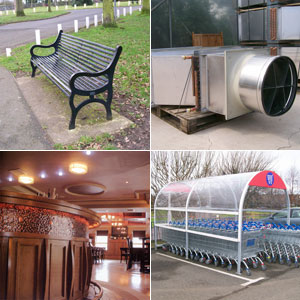 JA Devlin Engineering was established in 1989 on the southern shore of Lough Neagh in County Armagh, Northern Ireland. In the past twenty years we have expanded our business from a small family enterprise to one that today can boast exports all over the world. Our customers include leading mushroom house suppliers, designers and erectors, construction, food preparation, horticulture, hospitality, street furniture and marine to name just a few.
We manufacture with quality materials with the use of Aluminium, Stainless Steel and Mild Steel and remain highly competitive by continually sourcing our raw material and using the most modern and technical machinery.
Products include Air Handling Systems, Galvanised Steel Doors, Mushroom trolleys, Shopping trolley parks, Smoking Shelters, Mild Steel and Stainless Steel Handrails and Balastrades, Bollards, Stainless Steel Tables,Shelving and Wash Hand troughs, Industrial Sinks, Park Benches, Planters and Tree Guards.
We have also recently completed and delivered Aluminium Oyster Barges for use in the Marine Industry, these barges having been fitted out with Deck and Harvesting Conveyors. Both are successfully fishing, two in Northern Ireland and the other in Kent.
Every day brings a challenge and with a focus on top quality products, competitive prices and in today's demanding market, meeting production deadlines.